In 1926, a set of female triplets was born in Zurich, Switzerland. The firstborn weighted only two pounds. Despite limited technology to care for such small infants, the triplets survived.
During their teen years, Europe was in the midst of World War II, and the oldest became interested in relief work. She decided to study medicine, over her father's vehement protests. Because he refused to help her financially, she had to work her way through school and eventually graduated in 1957. She married another doctor and moved to America to continue her training.
She wanted to specialize in pediatrics, but because she was pregnant, she ended up pursuing psychiatry instead. Her name was Elisabeth Kübler-Ross, and she would leave an indelible mark on the field of psychiatry with her ground breaking work on death and dying.
Perhaps it was her own touch-and-go beginnings or perhaps it was all the misery she witnessed during her teen years, but whatever the case, Elisabeth felt a special bond to those who were dying. She began to reach out to people that others had written off as hopeless. Later, she began to lecture on the subject. Then she began to write about it.
In 1969, she published her seminal work, On Death and Dying. It became a best seller and was both revered and reviled, as all truly original things are.
The basic premise of the book is that those who are dying go through five stages of grief as they face their impending demise. The first stage is denial: There must be some mistake—the lab results got mixed up, perhaps? The second stage is anger: Why me? What did I do to deserve this? The third stage is bargaining: I'll never smoke again if only the cancer will go away. The fourth stage is depression: What's the use? I'm going to die anyway. And the fifth and final stage is acceptance: I am going to die, but there are some things I need to do first!
Have you ever known someone who was dying?
Did you see them go through some or all of the five stages described by Kubler-Ross?
What if you were given a terminal diagnosis, would you identify with some of the stages she outlined?
Have you already made a "bucket list?"
Interestingly, the five stages of grief as related to death can also be seen in a wide variety of other areas that involve some form of loss or change. If your spouse decided to seek a divorce, for instance, you might begin with denial or anger and quickly progress to bargaining or depression, but after an undoubtedly painful transition period, you would eventually be forced to accept the dissolution of your marriage and move on with your life.
Have you ever experienced an unwelcome life change, such as moving away from close friends? A career-ending sports injury? A rejection letter from your dream college, a potential employer, or an inconstant sweetheart?
Did you see some of those stages of grief pop up? Did you eventually work through them?
Have you ever experienced an unwelcome life change?
In John 8:12-30, the religious leaders are confronted with a dramatic and undesired change in the status quo. They would no longer be the gatekeepers to God's forgiveness. The law they had so long upheld and protected was finally being fulfilled. The ground was shifting under their feet, and they did not like it.
Think about the five stages discussed above: denial, anger, bargaining, depression, and acceptance. Can you see the religious leaders exhibiting any of those attributes in this passage? Do denial and anger stand out?
What about in the gospel story as a whole? Angry when they crucified Jesus, perhaps? Judas, depressed maybe? The thief on the cross, accepting Christ in the end?
What about in history in general? Do some deny Christ? Get angry over Him? Battle helplessness and hopelessness separated from God? Try to bargain with God? Eventually accept His grace and love?
When we are confronted with the message of the gospel, we are first and foremost confronted with the problem of sin. Were it not for sin, we would need no Savior, no cleansing, no forgiveness.
It is only in the context of our own sinfulness that the gospel makes sense or has any real meaning.
How do people typically respond when they find out their behavior or lifestyle is viewed by God as sin?
How did you initially respond when faced with the sin in your own life and heart? Was there denial or anger? Bargaining or depression?
How about now that you have accepted His love and forgiveness? Are there still pockets of unaddressed sin or corners of your life you are in denial about? Attempting to bargain with God? Depressed that you cannot find victory?
Sin, like death, is a hard truth that we all must face.
Doing so is not easy. We will fight it—it is in out nature to do so. We will want to deny that what we are doing is actually sinful. We will want to lash out at God or at anybody else who confronts us concerning our sin. We will try bargaining with God and with ourselves. We will become despondent and depressed that we cannot continue in sin and still have Grace abound. But if we can come to the point where we accept that God's Word is true and that sin must go, then we can also realize that His Love for us is unfailing and that His grace is sufficient to cleanse us of all unrighteousness.
---
NOTE: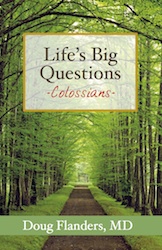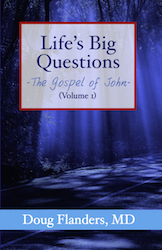 This post is adapted from my Life's Big Questions Series, which encourages readers to examine all of life's questions in the light of Scripture.
Whether used for personal devotions, as family discussion guides, or in a study group, this series provides an invaluable resource for enhancing your spiritual walk.