For nearly eight hundred years by the time of Christ's crucifixion, Roman generals had been celebrating their foreign victories by having elaborate parades through the streets of Rome.
For one day only, a victorious general could ride on a chariot through the heart of the capital to great pomp and fanfare⎯the greater the victory, the greater the celebration. Sometimes there would be games to follow the parade, sometimes food. Spoils of war might be distributed. Monuments might be built.
Great attention was paid to even the smallest details of the parade. How long did it last? How many people and animals were involved? What did the general wear? What color were the horses that pulled the chariot?
Every general wanted to outdo prior generals, but only to a point. If he overdid it, a general might inspire jealousy from his peers or the politicians. He was due his victory lap, but he didn't want to showboat too much. One of the reasons the senators assassinated Caesar is that he insisted on wearing his victory garb as everyday apparel!
The Roman victory parades continued long after the time of Christ. They lived on for centuries more, not only in Rome proper, but through adaptation in multiple other cultures as well.
When Titus and his father conquered Jerusalem in 70 AD and destroyed the Jewish Temple for the second time in history, they brought its treasures back to Rome and used some of them to help build the Coliseum. The scene can still be viewed today carved into the Arch of Titus in Rome. That arch was then the model for Napoleon's Arc de Triomphe, where many a modern victory parade has been held.
Can you think of any military victory parade that you have seen or read about?
What other types of victory parades are there? Sports, perhaps?
In what other ways do people celebrate besides parades?
At these celebrations, do people sometimes try to outdo one another?
Is it possible to overdo a celebration? Do people sometimes make others jealous when that happens?
Do unwritten rules develop over time about what is acceptable and what is not for any given form of celebration?
Do those rules sometimes get formalized, like end-zone celebrations in football?
In today's lesson in John 12:12-19, the Jewish people have a spontaneous parade for Jesus. They were probably very familiar with the Roman military parades and may even have been imitating them to some degree.
If Jesus is being treated like a conquering hero, what had He just "conquered" that the people had witnessed?
In raising Lazarus from the dead, He had conquered death. Was this a foreshadowing of an even greater victory over death and sin that was to come? Did the people really understand what sort of victor Jesus was?
What did Jesus ride instead of a victory chariot? What clothes did He wear? What gifts did He give out? What monument would soon be raised to commemorate His victory?
Did the other "generals" become jealous of His victory and His parade?
In Luke's telling of this story, the following exchange occurs:
Some of the Pharisees in the crowd said to Him, "Teacher, rebuke Your disciples."
But Jesus answered, "I tell you, if these become silent, the stones will cry out!" (Luke 19:39-40, NASB)
Whereas the Roman generals had to sponsor and fund their own parades, this one occurred spontaneously. Even though it had very little pomp and ceremony, it still inspired jealousy amongst the Jewish leaders.
Furthermore, the Roman generals often tried to link themselves with various deities in hopes of appearing to be more than mere mortals. Jesus went the opposite direction. Being God, He took on all the humble trappings of humanity⎯but nature itself could not ignore His divine presence!
When you or someone you love gets over an illness, especially a serious one, don't you naturally want to thank and praise God?
How about when you see a beautiful sunset, mountain range, or field of flowers, doesn't it make you want to glorify the creator?
What are some other instances that make you want to honor and magnify the Lord? Beautiful music? The birth of a child?
God is the creator and ruler of the universe.
It is the natural instinct of creation to glorify and honor its creator. Sometimes that natural instinct gets misdirected towards other aspects of the creation itself. Nonetheless, it is the duty and privilege of Christians to join with nature and the angels in praising and glorifying God for all that He has done and is doing. And we don't need a chariot or a victory lap to make that happen.
---
NOTE: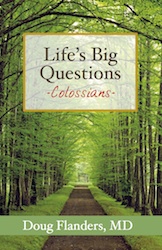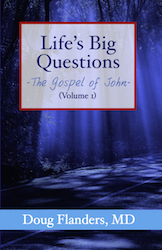 This post is adapted from my Life's Big Questions Series, which encourages readers to examine all of life's questions in the light of Scripture.
Whether used for personal devotions, as family discussion guides, or in a study group, this series provides an invaluable resource for enhancing your spiritual walk.