In the early 1980's, Augusto and Michaela Odone noticed that their previously healthy young son was starting to behave strangely and to lose his hearing. Naturally alarmed, they took him to be examined by their physician. Eventually, it was shown that their son had a rare genetic disorder known as adrenoleukodystrophy.
This disease resulted from a mutation that caused long chains of fat to accumulate throughout the body. This gradual accumulation of fat damages a number of organ systems, but it especially damages the brain. Once signs of brain damage begin to appear, the progression is rapid and fatal. At the time, there was no known cure and very little research being done.
Desperate to help their son, the Odones began to investigate everything available about their son's condition. They joined support groups, interviewed researchers, and camped out in libraries pouring over esoteric medical journals. Through a series of events that can only be attributed to shear tenacity and a passion for their son, Lorenzo, the Odones helped to develop a concentrated extract of olive and rapeseed oils that could actually slow down the progression of the deadly disease. Lorenzo ended up living an additional twenty years beyond what was expected, and the oil that his parents developed became known as Lorenzo's oil.
Does knowing someone with a particular disease make that disease more real to us?
If that person is close to us, like a parent, sibling, or child, does it make us want to help them in some special way?
What are some things you have done to help a particular cause? Run in a race that was raising funds? Sent in a donation?
Have you known someone who was passionate enough to actually organize a fund-raiser or found a non-profit organization?
Have you known someone who took it a step further and dedicated their entire life to trying to find a cure, like the Odones?
In today's lesson in John 11:28-44, Jesus raises Lazarus from the dead, but before He does, Jesus first weeps. He weeps in such away that those around Him comment on how much He must have loved Lazarus. "Jesus wept," is the shortest verse in the Bible, but it is actually packed with meaning. It demonstrates the "human-ness" of Christ, immediately before He demonstrates His "God-ness" by raising Lazarus back to life.
It also shows that being in control of a situation doesn't mean you are not affected by the situation. Christ knew He was going to raise Lazarus, and He knew how important that act would be to His ministry, but He still cried to see His friend in the grave. If my child breaks an arm, I know how to set it and know that in time it will heal, but I still cringe when I hear the snap and am distraught to see my child in pain.
Now compare this story to the story of the woman in the crowd who touched Jesus' robe and was healed of "an issue of blood." Jesus asks who touched Him and the woman comes forward:
"And when the woman saw that she was not hid, she came trembling, and falling down before him, she declared unto him before all the people for what cause she had touched him, and how she was healed immediately." (Luke 8:47 KJV)
In both cases Jesus performs a miracle of healing and, being God, He obviously knew each person's story in great detail. But in one situation the healing is personal and intimate. In the other, it is impersonal—an exchange between strangers almost.
Do people who have no interest in God sometimes pray when they find themselves in trouble? Does God answer their prayers?
When God does answer their prayers, are they a bit surprised and maybe a little scared? Can this be a starting point for a deeper relationship with God?
Once the immediate crisis has passed, do they sometimes forget about God and simply continue on with their lives as before? Remember the ten lepers that were healed, but only one returned to offer thanks?
Can you think of some times that you have called upon the Lord for help? Were you grateful? Did it change your relationship with God in a meaningful way?
Would you say that God's answering of your prayers was an impersonal demonstration of His power or an act of love from a dear friend who really cares about you?
I have been taking care of people who have been injured in car wrecks for nearly a quarter of a century. Some of those victims make it, and some do not. Only once have I seen a surgeon weep when a patient died on the operating table. It turned out that the patient was a good friend of the surgeon—and that fact made all the difference.
Each of us will have times in our lives when we need God's help.
When those times come, wouldn't it be nice to be so close to God that we can sense how passionate He is about our situation? Wouldn't it be great to know that He would go to extreme lengths to see us healed? Wouldn't it be incredible to realize that when we hurt, Jesus weeps?
---
NOTE: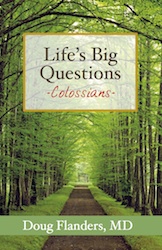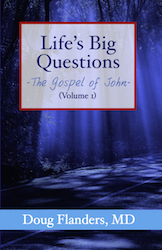 This post is adapted from my Life's Big Questions Series, which encourages readers to examine all of life's questions in the light of Scripture. Whether used for personal devotions, as family discussion guides, or in a study group, this series provides an invaluable resource for enhancing your spiritual walk.