"You shall not take vengeance or bear a grudge against your kinsfolk. Love your neighbor as yourself: I am the LORD."
– Leviticus 19:18 (Moses 1393-1273 BC)

"That which you hate to be done to you, do not do to another."
– Egyptian papyrus (664 BC – 323 BC)

"Never impose on others what you would not choose for yourself.."
– Confucius (500 BC)

"Regard your neighbor's gain as your own gain, and your neighbor's loss as your own loss."
– Laozi (500 BC)

"Do not do to others that which angers you when they do it to you."
– Isocrates (436–338 BC)

"Do to others what you would want them to do to you."
– Luke 6:31 (Jesus 32 AD)

"…and you should forgive and overlook: Do you not like God to forgive you?"
– Quran, Surah 24, v. 22
(Muhammad 609-632 AD)

"And if thine eyes be turned towards justice, choose thou for thy neighbor that which thou choosest for thyself."
– Bahá'u'lláh, Bahá'í Faith (1817-1892)
Do to others what you would want them to do to you.
The Golden Rule is a moral principle that can be found in practically every culture, philosophy, or religion that has ever existed. It is one of those simple, self-evident things that most people find easy to understand but difficult to implement.
It is something people must be reminded of often, and parents, teachers, coaches, and priests have been trying to do exactly that for thousands of years. Jesus was the most famous champion of the idea, which is why even people who do not accept Him as Savior often view Him as a great and wise teacher.
Did you think that the Golden Rule originated with Christ? Is it one of the ideas you most associate with Him?
Were you surprised that there are so many variations of the Golden Rule across so many cultures, geography, and time? (Only a small sample is given above)
If Jesus didn't originate the Golden Rule, but simply popularized it, does that change the truth of its message at all? Does it alter His credentials as a wise teacher at all?
Today's passage doesn't contain the Golden Rule. In fact, the Golden Rule as such isn't found in the Gospel of John at all. The book of John is focused on Christ's divinity.
In today's passage (John 8:48-59), Christ declares, "…before Abraham was born, I am." (John 8:58) He is declaring himself to be God. It was a completely new idea altogether, and the initial reaction of the Jewish leaders was to kill Jesus on the spot. Not typically how one responds to great and wise teachers.
If Jesus had limited Himself to popularizing the Golden Rule, would He still have been considered a great and wise teacher by worldly standards? Would He have been crucified, if He had stopped there?
If someone claims to be God, does that make them a great and wise teacher? Might it make them arrogant or delusional instead, the polar opposites of wisdom?
If Christ's claim to be God is false, then He was simply a delusional guy who latched onto a good idea and popularized it, while getting killed in the process. On other hand, if Christ's claim to be God is true, then that changes everything for all time. What are some ways we can know His claims are true? Prophecy? Miracles? Personal experience?
If Christ's claims are true, will simply "liking" His teachings do us any good? Will trying to follow the Golden Rule be adequate?
If Jesus is God, then the Golden Rule really did originate with Him at the dawn of time. Could the presence of the rule in so many cultures and epochs be evidence of our being created in the image of God?
Could our inability to keep the rule be evidence of our need for God's enabling presence in our lives?
All rules and laws—even basic ones like the Golden rule—serve two purposes. The first is to tell us how we "ought" to live. The second is to remind us that we are not "able" to live as we ought in our own strength.
When Jesus came, He reaffirmed how we ought to live—we had that part correct. But He also exposed what a poor job we were doing of it and reminded us that we needed some help. He is that help.
Apart from Christ, we are doomed to a life of frustration, constantly missing the mark.
With Him and in His strength, we can "do all things." This message is "to Jews a stumbling block and to Gentiles foolishness, but to those who are the called, both Jews and Greeks, Christ the power of God and the wisdom of God." (1 Cor. 1:23-24 NASB)
Does society view Christians as people who live in the power and wisdom of God? How do they view Christians? Is there a discrepancy?
Do our churches teach us to be plugged in to Christ or simply encourage us to be good people and follow the Golden Rule? Will any one be able to do those things without being empowered by Christ? Could this be the reason we fall short and often look no different from the rest of the world?
Are you plugged into Christ for your strength and wisdom? Does your life reflect that fact? Are there areas where you still struggle? Have you given those areas over to Him, or are you reserving those things for yourself?
Christ is God. He didn't come to "abolish the Law, but to fulfill it." He is the source of our strength. He is the source of our wisdom. Our feeble attempts at obeying the rules will not be enough. They were never meant to be.
We must abide in Him, and He in us. This is the real "Golden Rule."
---
NOTE: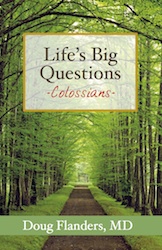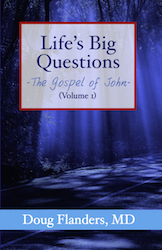 This post is adapted from my Life's Big Questions Series, which encourages readers to examine all of life's questions in the light of Scripture. Whether used for personal devotions, as family discussion guides, or in a study group, this series provides an invaluable resource for enhancing your spiritual walk.