Being a preacher's kid and having been around the church my whole life, I have been to a lot of funerals. The format is usually fairly standard with friends and family saying a few kind words and the preacher speaking about the resurrection.
The majority of funerals I have attended have been for elderly people whom I barely knew or didn't know at all, usually parents or grandparents of friends. So when I attended the funeral of a good friend's father a few years ago, I was simply fulfilling an obligation. I had never met the dad, but was showing support for my friend in their time of loss.
The funeral itself was not unusual in any way. Friends and family spoke. The preacher gave a message. However, one thing stood out to me. Whenever anyone talked about my friend's father, they did so with such passion and specificity that I knew their love for him was sincere.
It was quickly apparent that the father had touched many lives in positive and meaningful ways. It was like a real-time version of It's a Wonderful Life. As I left the memorial service, all I could say was, "That was a good funeral."
It made me want to be a better person, to live a more intentional and impactful life, and to have a "good funeral" myself when my time came. Even in death, my friend's father was having a positive impact on a complete stranger.
Have you ever been to a "good funeral" where you felt inspired by the life of the deceased?
Have you been to an unusually sad funeral, say for an unbeliever or someone who squandered their years on earth? Did it have a different feel to it?
Have you read about someone who died in a good or heroic way, possibly saving others in the process?
Have you read about someone who died in a particularly foolish way, say driving drunk, and maybe even killing or harming others in the process?
Given the choice, would you rather your death be an inspiration or a warning? How can you decide which it will be?
In today's lesson in John 11:1-27, Jesus' friend Lazarus dies. In John 11:4, Jesus states, "This sickness is not to end in death, but for the glory of God, so that the Son of God may be glorified by it." (NASB) Just like the man who was blind from birth whom Jesus healed, God had a special plan for Lazarus. That special plan involved sickness and death, but was orchestrated by God nonetheless.
Whenever God blesses us with good things, we usually recognize His hand at work. Is He still at work in our lives when things go poorly?
Can God be glorified even in the tough things? Even in death?
The resurrection of Lazarus was one of Jesus' most impressive miracles. Could He have raised Lazarus up without Lazarus dying first?
Can God be glorified even in the tough things?
2 Corinthians 5:17 states, "Therefore if any man be in Christ, he is a new creature: old things are passed away; behold, all things are become new." To be resurrected, a person must first die. To have a spiritual resurrection, the same is true. The old sinful nature has to die and be replaced by a new nature that Christ provides.
What would happen if you approached a complete stranger at the mall and attempted to do CPR on them while they were walking around perfectly healthy? Would they think you were insane?
What if that same person suddenly collapsed in front of you and quit breathing? Under those circumstances, CPR would be appropriate and you would be a hero, correct?

Spiritually speaking, people sometimes want the benefits of resurrection without the pain of dying to their old sinful nature first. They become spiritual zombies, shuffling around, neither fully alive nor fully dead. From a distance, they seem to be one of us, but as you get closer, you realize something isn't right. Their actions are forced and awkward, their eyes lack a certain light, and they seem to hurt everyone with whom they come into contact.

Have you known any spiritual zombies, people who "play" at being a Christian, but don't want to let go of their old sinful habits like pride and bitterness? Is it a pretty sight?
Are you a spiritual zombie? Are you clinging to anything you should have given up long ago?
Are you willing to ask God to slay that old sinful nature, to put it in the grave once and for all, so He can actually resurrect you into newness and life?
God has a plan for our lives, but that plan always starts with a "good funeral," a funeral where our old nature is laid to rest, so that our new nature can be taken up, a funeral where we die to ourselves so that we can live for Christ.
---
NOTE: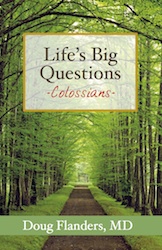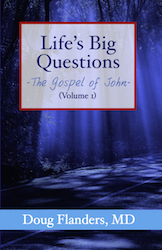 This post is adapted from my Life's Big Questions Series, which encourages readers to examine all of life's questions in the light of Scripture.
Whether used for personal devotions, as family discussion guides, or in a study group, this series provides an invaluable resource for enhancing your spiritual walk.