If you are a runner and have children, there will come a point when your children ask the question, "Can we come with you?"
You may try to put them off at first, but sooner or later they will beg and plead enough that you give in. If they are three or four years old, they'll only make it a block or two, with you practically jogging in place beside them, before they tire out and want to go home.
If they are five or six and ride a bike beside you, they will make it to the mathematically furthest point from your house before tiring out—at which time, you will have to carry them and their bike home, undoubtedly throwing your back out in the process.
However, by the time they are ten to twelve, they'll be able to keep up with you, provided you go slowly and not too far all at once. They will continue to steadily improve over the next few years, and you may even sign up for a local race or two together.
Then eventually there will come a moment when you realize that running with you is more of a warm up exercise for what they are really capable of doing. You are slowing them down. You may even consider riding a bike beside them now!
You will probably have to watch from the stands at track meets or simply wait for them at the finish line at road races. Once they've surpassed you, there is no going back.
Can you think of other examples where children surpass their parents over time?
Are parents happy or sad when this moment comes?
We have all heard about the thirty-year-old still living at home in the basement playing video games. Would that be considered a parental success or failure?
If the goal of parenting were to create independent adults, what would an independent adult look like financially, emotionally, or in other ways?
What are some ways that a parent can guide their children towards independence in different areas like finances or emotions?
In John 3:22-36, John the Baptist explains to his followers that he is not the Christ, but was sent ahead to prepare the way for Christ. Then in John 3:30, he famously states, "He must increase, but I must decrease."
"He must increase, but I must decrease."
John was Jesus's cousin and only a few months older than Jesus. In what ways was their relationship like the parent-child relationship described above?
In what ways was it different?
John prepared the way for Jesus in a very specific manner; however, one could argue that many people throughout the Old Testament were preparing the way for Jesus also. Can you think of some examples?
It has been said that everything prior to Christ pointed forwards to Him, but everything since Christ has pointed backwards to Him, as well.
Jesus is the turning point of History.
Can you give examples from the New Testament that point back towards Christ?
Can you think of examples in your own life that point back towards Christ?
Is Christ the turning point of your story? Should He be?
In infancy, children are completely dependent upon their parents to provide for their every need. Parents feed them, bathe them, dress them, change their diapers, and soothe them when they are upset.
As children grow and mature, however, they learn to do more and more for themselves. The older they get, the more independent they become. This is the plan, the objective, and the goal in human childrearing.
As Christians, God is our Heavenly Father. Compare and contrast a believer's relationship to God to a child's relationship to his parents.
God has promised to provide for our every need. Is His provision any less needful as we grow older?
Is "independence" or "self-sufficiency" God's goal for His children? Is it either possible or desirable for us to become independent of Him? Does God want us to become more or less reliant on Him as we mature in our walk?
Parents are usually thrilled when their children start to crawl or feed themselves or sleep through the night for the first time. Each new milestone is duly recorded in the baby book and documented in pictures and/or video. Is it also a badge of honor when we, as Christians, do things in our own strength, or is it a signal that we have missed something?
What is that something? Something grander and bigger than we could have imagined or accomplished on our own? The joy of resting in Him or seeing His hand at work, perhaps?
Who gets the glory when we do things "on our own?" Who gets the glory when we accomplish things that would be impossible apart from God's enabling strength?
When it comes to our relationship with Christ, the mature response is the simple one given by John the Baptist, "He must increase, but I must decrease."
The longer we know Christ, the more mindful we should be of our total dependence upon Him.
This should be the guiding principle of our Christian faith. Our goal should be that onlookers would not notice us at all, but see only Christ magnified and glorified in everything we say and do.
---
NOTE: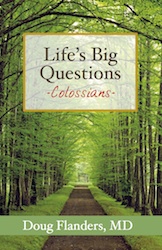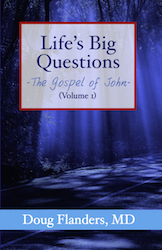 This post is adapted from my Life's Big Questions Series, which encourages readers to examine all of life's questions in the light of Scripture. Whether used for personal devotions, as family discussion guides, or in a study group, this series provides an invaluable resource for enhancing your spiritual walk.