I spotted a photo in my newsfeed yesterday of the T-shirt a feminist father made to explain his expectations to anyone interested in dating his daughter. His "rules" sent a clear message: "What my daughter does is her own business, and you'll answer to her, not to me."
As the father of four daughters myself, I found this man's laissez-faire attitude to be a little unsettling. I believe a dad has a moral obligation to protect his children from harm, to prepare them for life, and to provide wise counsel along the way — all of which calls for a hands-on approach to parenting.
I agree with Feminist Father on his first two points (I don't make the rules and You don't make the rules). However, I disagree with his conclusions, so I decided to create a little T-shirt of my own — a Christian Dad's response to Feminist Father, if you will: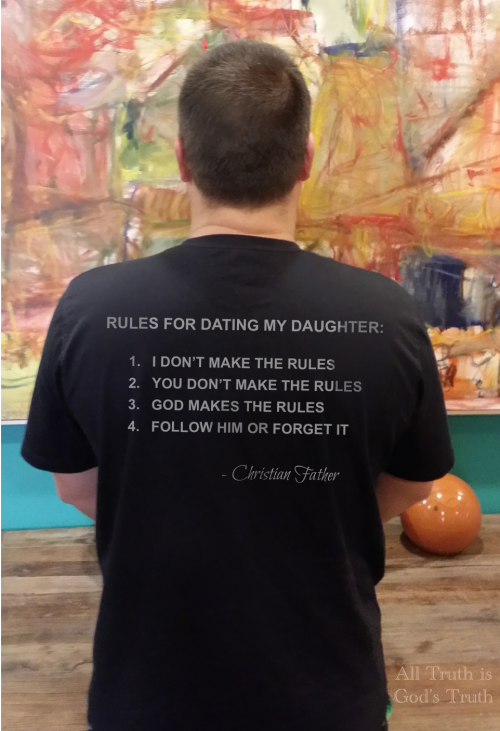 GOD makes the rules. And His way is better than anything we could dream up.
I know that none of the men who date (or eventually marry) my daughters will be perfect.
I don't expect them to be.
But I do expect them to have hearts on fire for Jesus. I pray that they'll follow His example. I want them to love my daughters with an enduring, committed, self-sacrificing love.
All others need not apply.
---
What sort of rules or guidelines have you set for your sons and daughters when it comes to dating? Tell us about them in the comment section below.
Want a "Dating Rules" T-Shirt for yourself or someone you love? They're available here in a variety of colors. (Please note that the graphic is on the front of the shirt, not the back).
A Christian Father's Rules for Dating My Daughter first appeared on All Truth is God's Truth.
---